Nightlife Tours
Cancun has some of the hottest nightlife in Mexico. But, because it is such a hot spot for clubs and bars, you might end up waiting in long lines at the doors or bars for many of the clubs. However, if you opt to do a Nighlife tour, then you will have several things included like drinks and transportation.
Additionally, you will have VIP access to many of the best party spots in the City. It's the best way to experience Cancun's party scene while avoiding the lines and downtime.
Book today and take full advantage of it with a Cancun Nightlife tour!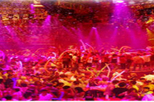 $79.99
The Cancun Party-Hopper Tour offers 6 to 7 hours of pure fun (drinks included) in the most famous nightclubs that the Spring Break party capital of Cancun has to offer. Ideal for college students and those feeling young at heart, get ready to enjoy celebrity treatment with VIP entry into the clubs.