Ecoparks and Nature Tours
Cancun is a hub of activities in the Riviera Maya due because of it's airport.
Therefore, finding transportation to and from some the the Riviera Maya's best activities is incredibly easy.
Some of the best activities can all be found within the Ecological parks in the region such as Xcaret and Xel-ha.
Each ecologicalpark is filled with plenty of things to do ranging from just relaxing on a beach, to snorkeling and visiting interesting aviaries.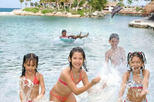 $95.99
Visit an incredible eco-archaeological park, where you can spend a day in paradise relaxing and enjoying nature, snorkeling, activities, shows and more!
For more than a millennium, this nature park and archaeological zone has been an important ceremonial center and Mayan port. Xcaret is located 34 miles (55 km) south of Cancun, near Playa del Carmen.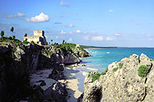 $114.99
Discover the mysterious beauty of Tulum and the stunning, natural Xel-Ha aquarium. This relaxing, all inclusive excursion from Cancun or Playa del Carmen will give you the opportunity to explore the spectacular Mexican landscape and natural aquatic life.
This family friendly excursion is sure to leave the entire family in awe!